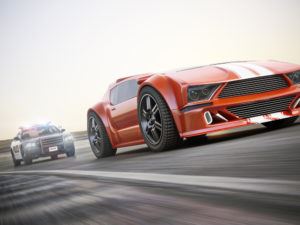 ​
A 33-year-old man who police say was involved in a domestic violence incident in an unincorporated area near Anaheim led Orange County Sheriff's deputies on a chase to Maywood, where he was eventually arrested. According to a news report on Patch.com, the man was arrested near Atlantic Avenue and 60th Street. He was booked on suspicion of domestic violence, violating a restraining order, false imprisonment, felony evading, and assault with a deadly weapon.
The incident reportedly began when deputies responded to a call that came from a home in an unincorporated area near the city of Anaheim, which is patrolled by the Orange County Sheriff's Department. The call began as a domestic dispute between a man and woman, officials said. But when a deputy got to the scene, the man left the area. Officials put out a description of his vehicle and a deputy in the area saw his vehicle, a Toyota Rav4. It sped away starting the pursuit, which continued on to the 605 Freeway, 105 Freeway, and onto the 710 Freeway. It ended in Maywood. The suspect's vehicle hit a patrol car once he was blocked in. No one was injured in the incident.
The seriousness of Domestic Violence Charges
Domestic violence charges can have a significant impact on your current and future employment options as well as on your family life. If you are facing these serious charges, it is crucial that you take the necessary steps to protect your rights and your freedom. Domestic violence, even one that results in a minor injury as the result of physical force can be charged as a felony. If you are convicted of felony domestic violence, you could be prohibited from ever legally possessing a firearm, under California law.
A domestic violence conviction in California will result in a minimum sentence of three years of probation and a requirement to successfully complete a yearlong batterer's program. Also, California courts are required to issue a protective order safeguarding the other party from violence, stalking, or other types of criminal threats or harassment. There may be fines and penalties to pay in addition to these consequences.
What You Should Do
• Remain silent. If you have been accused of domestic violence or domestic abuse, remember that you have the right to remain silent. Tell the officer that you would like to exercise your right to remain silent. That way, you are on the record as claiming your right.
• Be polite. Remain courteous to the police because that would be in your best interest. Provoking law enforcement officers who respond to your situation is likely to hurt your case. Every action you take or word you utter will make it to a report, which will be referred to in the future. So, be very careful about what you do or say.
• Contact an experienced domestic violence defense lawyer right away. As we've already seen, domestic violence charges are serious. It can affect your freedom, your job, a career as well as the lives of your family members including children. A knowledgeable lawyer will help ensure that the case is investigated and bring evidence that will help your case and give you the best shot at clearing your name and getting the charges dropped.
• Cooperate with your defense lawyer to gather evidence that will help bolster your defense. Also, follow the rules or requirements of any educational, counseling or diversion program. If you are offered any program such as an anger management program as an alternative to jail time, you are required to ensure that you complete it successfully in order to avoid jail time. Your privilege to participate in such alternative programs may be revoked if you fail to comply with the requirements.
• Don't sign any written statement without your attorney's advice. Don't let anyone intimidate or bully you into making such a statement. You have no obligation to talk to the police. If you start to talk, you can stop at any point. Please remember that anything you say can and will be used against you in court at a later time.
• Don't talk to friends or family members about what happened, regardless of how much you may trust them. Certainly do not post anything on social media about your case or about the details of what happened. Do not badmouth your spouse or partner on social media or online. Again, anything post online including photos, videos, and comments can be used against you later. It is best to suspend social media accounts and your online activity until you are done with your case. You do not want to give the prosecution any ammunition to work against you.
• Refrain from making inaccurate statements to the police. It is a crime to give false information to a police officer. You may face additional charges if you try to do so.
• Do not violate any conditions of release. A judge will set these conditions typically when you are released on bail. It is crucial that you follow these conditions that may include not going back home or maintaining contact with your partner, not possessing weapons or violating a restraining order.
• Remain calm at all times. You have the right to be treated with respect, dignity, and fairness by the police.
Why You Need an Experienced Lawyer
A knowledgeable and experienced Orange County domestic violence defense lawyer could make all the difference in your case. Domestic violence defense attorney Randy Collins understands that false allegation are fairly common in domestic abuse cases. Such phony allegations are usually made for a number of reasons including getting an upper hand on a child custody case. We have successfully gotten acquittals for clients who have been falsely and unfairly accused of domestic violence.
We understand the impact these charges can have on your emotional well being in addition to many other repercussions. We are here to help you clear your name and help you get your life back. We understand that the stakes are extremely high in domestic violence cases because it involved not just you, but also your family members, especially children. Call us at for a no-cost consultation and case assessment.